Dermo Pen Treatment
Vitamin Injections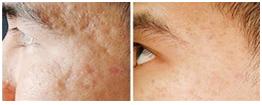 The skin needling system MESO Pen Treatment incorporates is a highly effective electronic device coupled with a bespoke Mesotherapy cocktail that takes skin needling or transdermal needling to the next level.
The SNS MESO Pen is used to vertically pierce the skin to produce hundreds of tiny injuries whilst protecting the epidermis. The result can be an effective methods of transporting products such as liquid hyaluronic acid, vitamins and peptides into the epidermis or a natural stimulation of collegen when piercing the dermis.
What areas will Dermo Pen Treat?

ADVANTAGES OF SNS MESO Pen
The SNS MESO Pen offers a multi-speed vibration action for the minimal discomfort and encourages better product absorption. The Vertical penetration of the needle is extremely effective, especially when treating scar tissue.
This pen is ideal for treating awkward area around the eyes, nose and lip contours, delivering better results in those harder to reach areas then with the traditional dermal roller.
Other advantages include reduced discomfort and downtime s the highly trained SNS Meso Pen practitioner has the ability to adopt the depth od the micro needling throughout the treatment.
Areas that do not required collegen induction therapy can be treated with transdermal needling. Using an effective Mesotherapy solution bespoke to your requirements the practitioner can treat a verity of conditions.
Wrinkles & expression lines
Flaccid skin
Barcode lines (lips)
Aged hands
Excess fat or skin on the neck
Pigmentation
Tired eyes / dark circles
Eye fat bags
Acne
Psoriasis
Eczema
Dermatitis
Localized fat
Cellulite
Stretch marks
Scars / wound healing
Alopecia
Hair loss
HOW DOES Fusion SNS MESO Pen stimulate collagen?
The skin needling procedure produces hundreds of tiny dermal injuries.
Each dermal injury triggers the normal healing response within the skin. Despites the minuscule nature of the wound, the body still acts to heal itself in its own natural way.
The post traumatic response of the skin is then to produce college nans elastin- two of the key building block od skin, and as there has been no removal or "real" damage to existing collagen, the new formations of it simply add to existing levels.
The SMS MESO Pen provides the latest and most effective method of collagen induction therapy, coupled with a powerful Mesotherapy cocktails, it will enhance the stimulation of collagen much faster then the conventional needling method.
HAIR LOSS ? (10 TREATMENT)
Fusion Mesotherapy for thinning hair is a non-surgical treatment that involves injecting microscopic quantities of traditional pharmaceuticals, vitamins, minerals, amino acids, peptides and growth factors into the scalp.
The Fusion Mesotherapy treatment has been designed to fight thinning hair, stimulate regrowth and to reduce hair loss.
There are two solutions that incorporate the latest generation of active ingredients to achieve the best results in the shortest of time. Suitable for both male and female clients that are showing signs of one or more conditions below:
Thin and devitalized hair
Androgenic alopecia
Non-androgenic alopecia
Dandruff and seborrhea
Fusion Mesotherapy is also recommended for hair loss prevention, strengthening of the hair follicle and for women who experience post-birth, pre-menopausal, and post-menopausal hair loss.
COMMON QUESTIONS ABOUT MESOTHERAPY
What areas of the body can be treated with mesotherapy?
- Mesotherapy can treat the face, neck, décolleté, double chins, Scalp, hands & arms, legs, knee pads, inner thigh bulge, back abdomen, Stomach, buttocks, saddlebags and love handles.
How long does the treatment take?
- Each treatment generally takes between 20-45 minutes depending on the condition being treated.
How quickly will I see results?
- The speed of the results depends on the extent of the condition and the area being treated. Rejuvenation procedures show visible results within 1-2 days following treatment. Eye fat bags will usually show improvement after 1-2 treatments, Cellulite can vary from 2-4 treatments.
Will achieved results last?
- Results are generally long lasting; however they will fade with time. It is therefore recommended that you attend a maintenance treatment should be combined with exercise and a nutritious diet.
Are the treatments painful?
- Needle free Mesotherapy is pain free. Howeverwith injectable Mesotherapy you should only experience minimal discomfort. A topical anaesthetic can be applied to take away this sensation.
Are there any side effects?
- A common side effect of Mesotherapy is bruising, which generally resolves after a week. It is best to avoid contact with the sun directly after treatment as this may produce pigmentation.